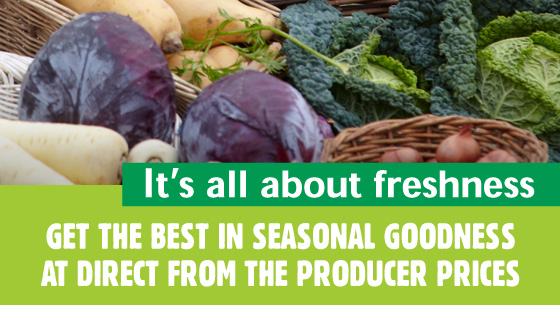 Here's what's in season at the farmers' market in September


The heat and lack of water of the last few months has had an affect on many crops some good some not so good. One can have too much of glorious summer weatherÖ day after day! However, itís time to return to routine. The kids head back to school. We pick up the reins of everyday life. However as September is a great month for the Farmers' Market, we have the pleasures of richer foods and heartier dishes to tempt us back into the kitchen to enjoy the bounty of the harvest season. Itís the time to enjoy an abundance of game, wonderful seafood, and here in the Garden of England all the finest apples and dessert pears for which this area is justly famous. You can still find the end of the summer berries but now mixed with autumn fruit, such as plums and gages.

Fish and seafood are plentiful this month and very reasonably priced. For seafood lovers look out for crab, mussels and prawns Ė and with an r in the month, itís the start of the native oyster season too.

The changing season heralds a longing for richer more comforting meat dishes so try local game this year, particularly venison. Itís the perfect free-range meat Ė minimum food miles, low in cholesterol and full of useful vitamins.... Lean and tender, it suits short cooking methods such as frying and grilling. Or for a real filling and simple dish try diced venison (or rabbit, or game birds) in a rich stew helped with plenty of red wine. We also have at the market a tagine herb mixture which brings out the flavours for such stews. Look for recipes on the internet as plenty of chefs are now using British game on a regular basis. For lighter meat, try guinea fowl. Cook in the same way as a small chicken, roast wrapped in streaky bacon, and enjoy the flavour, which is richer than chicken and subtly gamey.

If watching budgets remember that cheaper cuts of meat such as belly pork, shin of beef and lamb shank all taste particularly good. If the weather is still holding and you can still BBQ (and by now over fed on burghers and sausages) be a bit more adventurous and try a boned shoulder or leg of lamb leave overnight in a marinade. Put the lamb on the on hottest area of the BBQ and cook for a few minutes each side, then move away to a lower heat for 10 minutes each side.

With tomatoes, courgettes, sweetcorn, peas, cauliflowers, runner beans and onions all plentiful and cheap right now this might be the month to try making your own chutneys and pickles. You donít have to make huge amounts Ė just a jar or two can be very satisfying and you might just get the bug. Winter squashes and pumpkins have arrived and come in an amazing array of shapes and sizes all with different flavours and textures Ė try in soups, curries, gratins and risottos. This is also the season for our local Kentish cobnuts and walnuts.

Tree fruit are at their best and juiciest so donít miss plums, damsons and greengages. They are wonderful for eating (not damsons!), and using in preserves, ice creams, pies, and, if feeling very adventurous, even your own liqueurs and wines. (For recipes the Womenís Institute books are very reliable.) The blackberry season is at its height though somewhat stunted by the lack of rain over summer. You will be amazed at the different variety of local apples and pears grown. Use them for eating now but also for cooking.