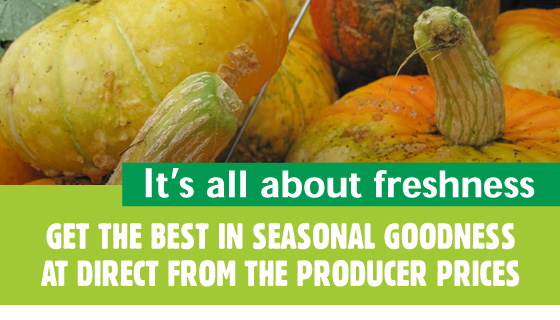 Here's what's in season at the farmers' market in November


Game is the meat of choice in November. The season is well under way for pheasant, partridge and wild duck. Venison makes a healthy choice. However, the lower fat content means careful cooking to avoid the meat drying out, so slow cooking is not ideal. Flash frying and grilling are better suited to lean, tender cuts of game. If you want to slow cook for great comfort eating, go for the cheaper cuts of beef, lamb and pork all cook down to wonderful mouthfuls of flavor.

Root vegetables are at their tastiest now and perfect for mashes.They improve with the cold and you will notice a marked difference in flavour compared to supermarket specimens. Look out for parsnips, Jerusalem artichokes, swede and turnips. Try cooking peeled cubed celeriac with a couple of cloves of garlic in the cooking water for a perfect mash to go with venison or roast beef. Brassicas really come into their own this month. Kale, Spring greens, and all kinds of cabbages are wonderful in stir-fries, soups, and hashes or just steamed with grated nutmeg and a knob of butter! Red cabbage cooked with apple, spices and red wine is another seasonal treat to go with venison, rich pork or maybe a roasted wild duck.

Colder waters make for high quality fish and seafood. Dover sole, turbot and halibut are rightly considered the very finest eating but try some of the lower cost alternatives as many are at their best. Brill is a real discovery if you haven't tried it before – a firm white flesh full of clean flavour that only needs simple cooking. Or opt for healthy mackerel and herring, full of valuable Omega 3 fish oils.