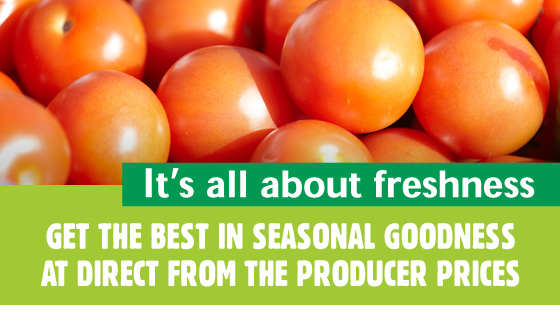 Here's what's in season at the farmers' market in August


August is one of the best months for filling up your Farmers'Market shopping basket. Plenty of summer vegetables are coming into season as we head towards harvesting time of year. Home-grown tomatoes are in abundance and taste superb right now, as do shallots, onions, French and runner beans, courgettes, aubergine, peppers, cucumber, and an amazing number of salad leaves, some of which will have been picked that very morning. Corn on the cob should be cooked and eaten as fresh as possible before the natural sugars turn to starch – cook the cobs protected by their leaves directly on the barbecue and serve with a lime and chilli butter. Early marrows and squashes should also be available, along with main crop potatoes. Make your own chutneys and pickles now, and then leave them to mature in a cool dark place to allow the flavours to meld and develop. They will be at their best just in time for Christmas and make perfect presents.

The soft fruit season is peaking for raspberries, black, white and red currents, plums, blueberries and blackberries, and with a late start to the cherry season, there should still be some available. Now is the time to buy soft fruit and convert it into jams, ice cream, smoothies and cakes, or store in the freezer to bring a taste of the summer to the winter months. A couple of summer puddings in the freezer make a perfect way to taste summer when the days are shorter

Summer fish is plentiful this month. Sea trout is a luxurious treat that is scarce even when in season so buy or (order them) when you see them and cook as simply as possible to preserve their flavour. Sole, sea bass and plaice are also excellent now. For seafood lovers look out for local crab at its finest at this time of year. Pile the white meat into ripe avocado halves then sit on toasted sour dough bread and top with a dollop of home made mayo and a squeeze or two of lemon juice.

A barbecue is a perfect way to make the most of some of the many meat products that you can find at your market. The obvious choices are steaks, burgers and sausages – properly made with locally raised meat, they have far superior flavour and cook really well on the barbecue compared to more insipid mass-produced versions available in supermarkets. You will find some interesting recipe combinations too – wild boar, pork and venison, pork flavoured with apple, hops etc. Picnickers will find superb pies, scotch eggs in many different flavours and styles, pates and terrines, quiches and tarts at many markets – all real time savers for making the most of sunny days when all you want to do is head for the beach.

And don't forget the Glorious 12th marks the start of the new game season so look out for venison, wild duck, wood pigeon and rabbit, as well as grouse. Venison burgers and wild boar sausages all make an excellent choice for the late summer barbecue; serve them with the first of the corn on the cob and some locally made chutney for a perfect partnership.