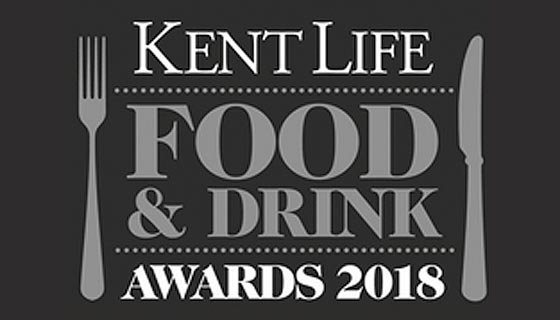 This year's shorlisted markets are: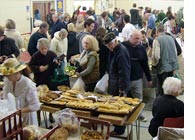 Capel-le-Ferne
farmers' market started in April 2003. You can buy baked goods, cakes, meat, fruit and vegetables, eggs, fish, crafts and more at one of our eight food, four home and garden and 5 craft stalls. Our market is held every Thursday from 10am to 12.30pm in the Village Hall. We are just off the B2011 between Folkstone and Dover.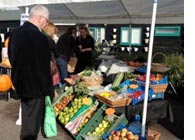 Offham
farmers' market is held at Spadework Nursery in Teston Road, Offham, on the second Saturday of each month from March to December from 10:00am to 1:00pm.
The market has around 30 stalls each month selling home grown and local fruit and vegetables, fresh fish, meat, game, cheese, pies, preserves, confectionery, beer, bread and cakes, vegan and vegetarian food and much more.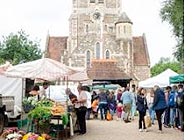 ...AND THE WINNER IS:
Shipbourne
farmers' market is located between Tonbridge and Ightham on the A227. Our market is held every Thursday from 9 to 11am in St Giles's Church. We have 23 permanent and two seasonal stalls where you can buy bread, fruit and veg, meat, game, fresh fish and a large variety of artisan products including confectionery, preserves, cheese, vegan food, wines and spirits and lots more.
The 2018 Farmers' Market of the Year category is sponsored by
Shepherd Neame

---
Last year's winner was Cliftonville Farmers' Market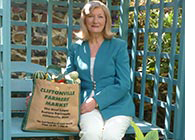 EASTERN ESPLANADE
"We started the market in 2001 with six stalls and now have 22 to 26 a month. It's run by volunteers from Cliftonville Residents Association who give their time for free and it is very much community based."
Find out more about Cliftonville Farmers' Market
HERE>
Highly commended…


CRANBROOK
THE VESTRY HALL
"We're among the oldest markets in Kent and have some very talented food and craft producers. It is wonderful to be recognised for the hard work that goes into our monthly market and the work we do for the local community and charities."
Find out more about Cranbrook Farmers' Market HERE>






WYE
THE VILLAGE GREEN
"Never mind the usual 30 or 60-mile limit for most markets, many of our stalls are selling produce, grown or produced in and around Wye. To be recognised by Kent Life, which is dedicated to Kent produce, would be a highly prestigious recognition of our localness and village spirit." Find out more about Wye Farmers' Market HERE>

Visit these and any of our other markets to find out just how good they are. We have markets throughout Kent so you are never far from fresh, local food!