Where better place to find your favourite tipple. We now have our license to sell alcohol and we now have a different local producer every week.

1st Thursday:- Greensand Distillery (Shipbourne Gin)
3rd Thursday:- Gorgeous George (Toffee vodka, gin, local beers and wines)
4th Thursday:- Hepworths Brewery (Beers)
Every week on the Church Co-operative stall:-Redhill Farm estate (wines)
Tasting notes:-
Greensand Distillery,
is based less than a mile away from the market.
After only being in existence just over a year they won
A TOP INTERNATIONAL AWARD IN SAN FRANSICO FOR THEIR LONDON DRY GIN, reports Produced in Kent.

The gin was awarded a prestigious Silver Medal at the San Francisco World Spirits Competition 2017. Silver Medal winners are "outstanding in their category. They are among the best examples of their particular category." The Greensand Ridge London Dry Gin is led by eight botanicals found in fields surrounding the distillery to "capture the aromas of a walk through the fields and woods of The Weald."
Shipbourne market has also won awards:-
Runner Up 'Taste of Kent Awards' Farmers Market 2016

Winner of Kent Life 'Best Farmers' Market' 2014

Winner of Produced in Kent 'Taste of Kent Awards' Farmers Market' 2005, 2009, 2011 and 2012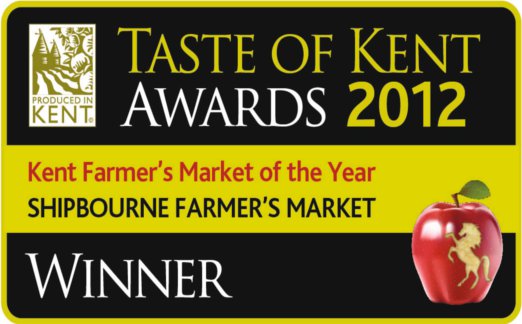 Finalist in BBC Radio 4' Food and Farming programme
Listed in the Times and Telegraph as one of the 10 Best Farmers' Markets in the country
Listed in Top ten UK food markets by Yahoo Travel

Run out of cash to spend at the market ? Visit the 'Bank of Shipbourne' open 9-11am at the Chaser Inn next door where you can get cash back with your credit/debit cards
In 1285, Edward I granted the village of Shipbourne permission to hold a weekly market. In May 2003, with the help of a grant from Rural Revival, the Parochial Church Council re-inaugurated the market.

Our objective is to provide a focus for the community and a retail outlet for small local producers. The Market is run entirely by volunteers. Any surplus made by the market is donated to Agricultural charities such as the Farm Crisis Network and Bread-line Africa.
We aim to provide our customers with a one stop shop. We have an extensive range of excellent quality local products including both basics and unusual fare.
The FIRST THURSDAY every month includes local craft producers