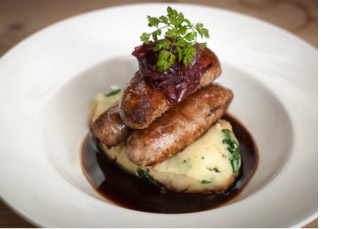 The Milk House,

The Street, Sissinghurst,
Cranbrook, Kent TN17 2JG
http://themilkhouse.co.uk
Print a PDF version of this page HERE>
The Milk House Pork and Herb Sausages with wilted spinach mash, red onion marmalade and a red wine jusServes 2
Ingredients
6 pork & herb sausages
400g King Edward potatoes
400g baby leaf spinach
200g South Downs butter
40ml full-fat milk
20ml double cream
100g sweet red onion marmalade
80ml red wine
40ml port
20ml balsamic vinegar
2 tbs beef glace de viande
Sea salt and cracked black pepper
2 springs of parsley
Method
For the wilted spinach mash:
Peel the potatoes and boil them for 15–20mins in salted water until soft. Drain the potatoes, add butter, milk and cream and mash until soft and fluffy. Season to taste. Fold fresh baby leaf spinach into the mash while hot to wilt. Leave to the side with the lid on.
For the sausages:
Pan fry 20g butter in a pan until nut brown. Add the sausages and caramelise for 7–10mins until golden brown and beginning to
sizzle. Finish cooking the sausages in the oven for 7–10mins at 180°C until the juices run
clear.
For the jus:
While the sausages are in the oven, add the wine, port, balsamic vinegar and glace de viande to a saucepan. Bring to the boil and reduce by half to form a thick sauce.
Finally
Slowly reheat the wilted spinach mash.
Divide the potato between two pre-heated plates.
Stack three sausages on top of the potato.
Pour the jus over and around the sausage.
Garnish with a generous dollop of red onion marmalade and a sprig of parsley
Serve with a glass of Chapel Down Union Red
Suppliers
Sausages from Park Farm Butchers, Hawkhurst TN18 4ES 01580 753 558
Spinach from Chegworth Valley, Chegworth ME17 1DE 01622 859272
Potatoes from The Potato Shop, Tenterden TN30 7LR 01580 766866
Butter from Bookham & Harrison, Rudgwick RH12 3DH, 01403 339 150
Milk & cream from The Northiam Dairy, Northiam TN31 6QT 01797 252445
Wine from Chapel Down Winery, Tenterden TN30 7NG 01580 763033
Chutney from Kent Fine Foods, Gillingham 07944 169866