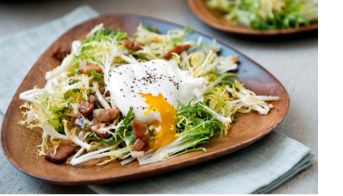 Michel Roux Jr.

Special Farmers' Market Month recipe.
Le Gavroche, 43 Upper Brook Street, London W1K 7QR
Print a PDF version of this page HERE>
Salade Lyonnaise – Dandelion and Bacon Salad
The classic salade Lyonnaise is made with dandelion leaves and if you are lucky enough to have a garden with an untreated area in it, you can pick your own. However, dandelions can taste a little bitter to some people so you can use frisée salad, or curly endive, if you prefer.
Serves 6

Ingredients
400g dandelion leaves or frisée salad
180g smoked streaky bacon
4 tbsp olive oil
1 small baguette
2 garlic cloves
white wine vinegar
6 free-range egss
2 tbsp red wine vinegar
salt
black pepper
Method
Pick through the salad leaves, then wash and dry them carefully. Cut the bacon into strips or batons, place them in a non-stick pan with a drop of olive oil and cook slowly over a medium heat.Cut the baguette into about 20 slices, 1cm thick. Drizzle them with olive oil, then bake in a preheated oven at 200°C/Fan 180°C/as 6 for about 15 minutes or until crisp. Rub with a cut clove of garlic.
Put a saucepan of water on to boil with a generous splash of white wine vinegar. Crack the eggs and carefully drop them into the simmering, vinegared water to poach. The eggs should take about 4 minutes for the whites to be cooked, but the yolks should still be runny.
Put the salad leaves in a bowl and pour the golden-brown bacon and fat on top. Add the bread, red wine vinegar and remaining olive oil, season lightly with salt but generously with pepper, then toss. Serve the salad on to plates and place the drained, hot eggs on top.
Serve immediately.