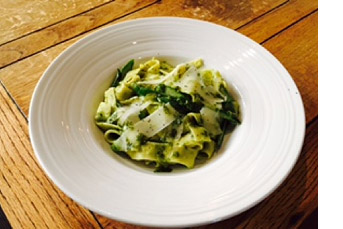 The Chaser Inn,

Stumble Hill,
Shipbourne, Kent TN11 9PE
www.thechaser.co.uk
Print a PDF version of this page HERE>Local White & Green Asparagus & Broad Bean Pappardelle, with fresh pea & mint puree and shaved parmesanIngredients
10 grams broad beans shelled
20 grams frozen peas
4 sprigs mint
Vegetable stock
2 spears of green asparagus blanched (chopped into three)
2 spears of white asparagus blanched (chopped into three)
15 grams shaved parmesan (or local hard cheese)
150 grams fresh pappardelle pasta
Salt & pepper
Instructions
To make the pea puree, sauté the peas and mint until soft (few minutes) and blend with stock until smooth and resemble a thick soup consistency.
Take the blanched asparagus and beans and sauté with a the pea puree, add the fresh pappardelle, season and cook for a few minutes until the pasta is soften but still with bite.
Serve in a large bowl and top with shavings of fresh parmesan.