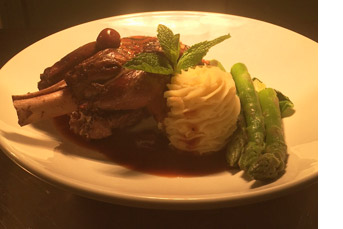 The Little Borown Jug

Chiddingstone Causeway,
Tonbridge, Kent TN11 8JJ
Tel: 01892 870318
http://www.thelittlebrownjug.co.uk
Print a PDF version of this page HERE>Braised Penshurst lamb
Served with Kentish potato mash, English asparagus, spring greens and a Staplehurst cherry reduction.


Serves 4

Ingredients
4 x half shoulders of lamb
250g chopped carrots
250g sliced leeks
250g sliced celery
250g diced onion
1 x bottle of red wine
1 x litre beef stock
100g x tomato puree
1 x whole crushed bulb garlic
1 x bunch prepared English asparagus
1 x kilo peeled, chopped Kentish potatoes
150g butter
˝ pint cream
˝ x pound stoned Staplehurst cherries
6 x sprigs rosemary
Instructions
Pre heat oven to 200c.
Place shoulders into large roasting dish, along with the vegetables. Cover with wine and add tomato puree, rosemary, garlic & beef stock making sure the lamb shoulders are 2/3 submerged in liquid. Cover dish with foil and roast for 4 hours.
After 3.5 hours boil the potatoes until soft. Drain off water and mash with cream and butter. Season to taste.
Whilst potatoes are boiling bring a pan of salted water to boil, add asparagus and simmer for 4 minutes.
Remove and add to a hot frying pan with butter and spring greens, warm through.
Remove shoulders, drain liquid and skim the fat.
Place liquid into saucepan and bring to boil. Add cherries and simmer until liquid is reduced to consistency of sauce.