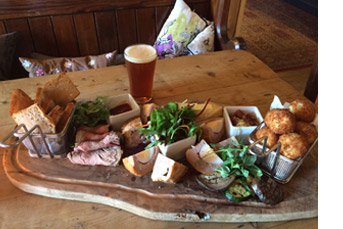 The Kings Head

Westerham Road, Bessels Green,
Sevenoaks, Kent TN13 2QA
Tel: 01732 452081
www.kingsheadbesselsgreen.co.uk
British deli sharer board...
Haywards butchers hand raised pork pie - haywards scotch egg - rare roast beef strip loin - ham hock, leek & smoked applewood bon bons - mature Winterdale Kentish cheddar - charred vegetables - homemade piccalilli - smoked bacon & white onion chutney - homemade sourdough bread. All, £29.95.
Piccalilli

450g of each; pickling onions, cauliflower, De seeded cucumber & French beans 

340g rock salt 

750g white malt vinegar 

1tbsp eng must powder, ground ginger, ground tumeric, 

1tbsp whole yellow mustard seeds

2 cloves garlic 

75g muscovado (light) 

2-3 tbsp cornflour


Method
1. Put the vegetables into a non-metallic bowl. Sprinkle the salt over the top, toss together, cover and leave in a cool place for 12 hours.

2. The next day put the vinegar into a large saucepan or preserving pan, add the spices and bring to the boil.

3. Drain the vegetables and rinse well under running water for 3-5 minutes. Add to the simmering vinegar, cook over a low heat for 20-25 minutes or until the vegetables are tender. Add the sugar and continue to simmer for a further 1-2 minutes.

4. Mix 2 tbsp of cornflour with a little water and blend into the hot vegetables. Bring back to the boil and cook for a further minute, the mixture should be glossy and thick. Add the remaining cornflour in the same way if necessary.

5. Remove the piccalilli from the heat and leave to cool for 15 minutes. Spoon into the hot jars and cover with a disc of wax paper and a screw top lid, wipe the jars and label. Store in a cool dark place for 3-4 weeks before eating.


Bon Bons
1kg potatoes 

100g smoked applewood cheddar 

100g Haywards ham hock

1tsp whole grain mustard 

Salt & pepper 

100g leeks



Method
1.boil ham hock in stock for 4 hours, allow to cool, pick meat and set aside.

2. Boil potatoes & mash them, keep mash dry ie no cream or butter but season with white pepper NO SALT. 

3. sweat off leeks and allow to cool & Grate cheddar
.
4. Incorporate all ingredients together combining with the whole grain mustard & set aside in fridge in balls (Bon Bon) to cool for an hour.

5. Panne Bon Bons using flour, egg & Panko breadcrumbs.