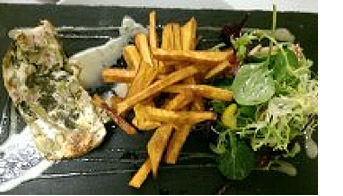 The Papermakers Arms,

The Street, Plaxtol, Nr Ightham
,

Kent TN15 0QJ

Tel: 01732 810407
http://papermakersarms.com
papermakersarms@aol.com
Print a PDF version of this page HERE>Vegetable Torte with rocket leaf salad, sweet potato fries and a Kentish blue sauceServes 6

Ingredients
Torte:
150g Asparagus
1 onion
50g broad beans
100g purple sprouting broccoli
100g chard
500g cream cheese
4 eggs
Kentish blue sauce:
20g butter
20g plain flour
290ml milk
50g Kentish blue cheese
Rocket leaf salad:
100g rocket
100g mixed baby leaves
1 tsp Dijon mustard
100ml olive oil
1 tsp white wine vinegar
Sweet potatoes 2 large
Instructions
Pre heat the oven to 180 ᵒC and line a loaf tin with baking parchment.
For the Torte:
Prepare the asparagus by gently snapping the stalks and remove the woody ends. Take the stalks off the chard and excess leaves off the purple sprouting broccoli. Wash all of the vegetables to remove any dirt. Bring a large pan of water to the boil and blanch only for a couple of minutes the asparagus, broad beans and purple sprouting broccoli to soften.
In a separate bowl beat together the eggs, cream cheese and set aside. Chop the vegetables into small pieces including the onion. Gently fry the onion in a little oil following the remaining vegetable, season well with salt and pepper and leave to one side. Combine the cream cheese and vegetables and place into pre lined loaf tin and bake in the oven for around 30 minutes until it has become firm. Leave to cool.
For the Kentish blue sauce:
Melt the butter gently over a low heat pull to one side mix in the flour and return to the heat until the mixture falls from the sides of the pan. This will make a basic roux. Slowly add the milk until the gluten breaks in the flour and the sauce starts to thicken. Be careful to do this slowly and to not let the bottom of the pan burn. When it has all combined add the cheese, when melted, season.
For the rocket leaf salad:
Make the mustard dressing by placing the Dijon mustard in a bowl, slowly add vinegar and oil to taste whisking quickly checking for seasoning at the end. Wash the rocket and baby leaves and drain well.
For the sweet potato fries:
Preheat the fryer to around 180ᵒC
Peel the potatoes and cut into thin strips place in the fryer until golden and cooked through.
To bring the dish together slice the torte into 6 portions. Place in the oven again to warm through. Warm the sauce in a saucepan gently and toss the salad in with the Dijon mustard dressing using just what you require. Dry the chips off in a paper towel season with a little salt and serve.
Suppliers
Root vegetables from Oak Apple Farm, Yalding 01892 730293
Salad from Chun Farm, Horsmonden 01892 722 577
Blue cheese from Kentish Cheeses, Staplehurst 01580 892478