2016 Winner of the Mike Rusbridge Award for Kent's Young Food and Farming Entrepreneur of the Year
Alex Auger
is the first winner of the Mike Rusbridge Award for Kent's Young Food and Farming Entrepreneur of the Year. She is the founder and now Managing Director of The Juice Executive and THINK Press. She started her first juice brand in 2014 from her kitchen at home aged 24, and moved into a purpose built production facility in January 2015 and now employs 20 people.
"My motivation was that I couldn't believe the disparity between truly fresh juice, and the 'fresh juice' we see on the shelves. The taste, quality and nutritional benefits of fresh juice are far superior to those that are heavily processed, yet consumers are not given that choice by most retailers because they hate short shelf-life products; whereas fresh juice, by definition, has a very short shelf life. We're starting by going direct to our customers, delivering to their homes and workplaces.

"Our location in Kent means we have access some of the UK's best produce. Our produce comes in fresh every morning. It gets washed, prepped and juiced, and then is sent out about 3 o'clock, so it can be anywhere in the UK by 10am the next morning." Other advantages are that the process removes non-soluble fibre, so the nutrients are more readily available; there is no added sugar (unlike many fruit juices) and the juice is not pasteurised.

"I passionately believe in the superior quality, taste and nutritional benefit of freshly pressed juice, and are strongly opposed to sacrificing quality for a longer shelf life.

"My principles of business are to respect our suppliers, take pride in the production of our product and care about our customers."

Both companies are SALSA accredited and Soil Association certified for organic production.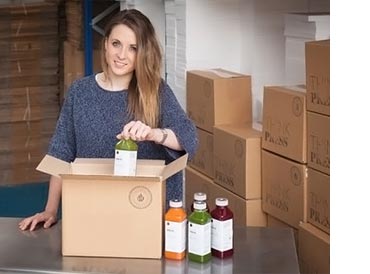 The Award
The Award is created in memory of Mike Rusbridge, a great supporter of young entrepreneurs. He was a Master Baker who attended many farmers' markets throughout West Kent, as well as running the family bakery and shop in Southborough, and being a long serving Tunbridge Wells Councillor. Read more about the award
HERE >
For More information
Learn more about Alex and her juice drinks
HERE >
Read more and subscribe to THINK Press juice packages
HERE >
For companies seeking contract production, click
HERE >