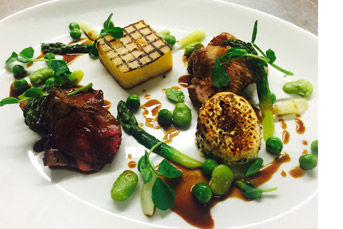 The Mark Cross Inn,

Crowborough, East Sussex TN6 3NP
http://www.themarkcross.co.uk
Roasted Rump of Spring Lamb served with Char-grilled Confit Potato, Local Asparagus, Peas & Broad Beans, Peppered Golden Cross Goats Cheese & Chapel Down Red Wine JusFor 4 People
4 x 200grm Lamb Rumps, Trimmed
125grm Golden Cross Goats Cheese
250grm Mixed Asparagus, Peas & Broad Beans
4 Baking Potatoes
Cold Pressed Rapeseed Oil
250ml of Red Wine
2 x Banana Shallots
Few Sprigs of Thyme
500ml Lamb Stock
Clove of Garlic
Method
Marinate the lamb in oil, thyme & garlic and leave for 24hrs.
For the sauce, slice shallots and add to a pan with a little butter and cook gently until coloured. Add the red wine and reduce to ¾ of the original volume. Add the lamb stock and reduce on a low heat until the consistency of double cream. When it has reached this point add the thyme and allow to cool. Once cooled strain the sauce and set aside until needed.
Remove the lamb from the fridge and set aside to remove the fridge chill from them. Peel the potatoes and cut out in to round or square pieces. Char-grill them until you get those nice bar marks.
Place in to a deep roasting pan and cover with oil and cook in an oven at 180oC for 30 mins or until tender.
After 10 mins or so seal the lamb in a hot pan and pop into the oven for 15-20 mins.
Cut the goats cheese into 4 pieces and roll lightly in cracked black pepper and set aside.
Pop your sauce on the stove to warm.
When the lamb and potatoes are almost cooked begin to blanch the vegetables until tender but still have a slight bite to them, and pop the goats cheese under a grill or in to the oven to lightly warm and colour slightly.
Take the lamb from the oven should be about 20mins by now and leave to rest for a few minutes. Drain the potatoes on some kitchen towel and assemble everything ready to plate.